Tibetan Art Classes
At Tashi Dhargyal's private studio in Sebastopol, California – the rich tradition of Tibetan art flourishes.
History of the tradition:
His Holiness the Dalai Lama decided to reactivate the long and rich tradition of thangka painting and requested Ven. Sangye Yeshi to found the first school.  It opened in 1977 at the Tibetan Works and Archives, Dharamsala.  Due to the Library's restructuring, the school was closed in 1992.
Attracted by Ven Sangye Yeshi's and his students' reputation as great artists, new students continued coming.  He trained them together with a network of his master artists. To ensure a high standard of training in the Menris tradition, he founded the Institute of Tibetan Thangka Art (ITTA) in 2004.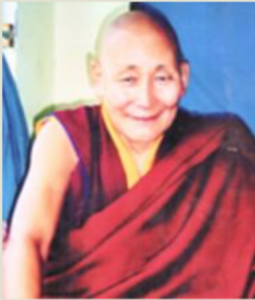 ITTA Founder, Ven Sangye Yeshi (1924-2009) started training as a painter at the age of thirteen in Ganden Manastery.  In 1953 he moved to Drepung Monastery, near Lhasa, where he painted thangkas and murals, and became a master of the Menris style.  After the Chinese invasion of Tibet in 1959 he fled to India.  His Holiness the Dalai Lama selected him as his personal painter in 1974 and requested him to start a school for thangka art in 1977.  ITTA has since stopped taking on students, in light of this, Tibetan thangka master, Tashi Dhargyal continues his teacher's legacy in Sebastopol, California.
The Menris Tradition:
For centuries the rich art of Tibet was influenced by its neighbors, India and China.  Menlha Dhondup introduced the first original Tibetan painting style in the 1500s.  The later styles reflected his work, thus establishing the Menris tradition throughout Tibet.
It is characterized by clear outlines, strong colors, fine shadings, and its accentuations in gold.
The development of this style was interrupted by the Chinese invasion of Tibet.  The tradition was revived by Ven. Sangye Yeshi, and flourishes today at ITTA in Dharamsala.
Tashi has just announced his first class series in three years, beginning in January, 2020.  Please email tashi (at) tashidhargyal.com to reserve your space and for more information.